EVENT SCHEDULE
A 100% free access event
PADDOCK OPENING
Tuesday 23 August, 2022 at 12:00
OPENING CEREMONY
Saturday 27 August, 2022 from 8pm
Parade of Nations in the historic city
Presentation of the Nations and freestyle show – Place du Breuil
Official training on the circuit of Eycenac
Free practice on a real Enduro Special Test
From Wednesday 24 to Saturday 27 of August from 9am to 6pm
Sunday August 28 from 9am to 12am
Official photo shootings and technical checks of the paddock
From Friday 26 to Saturday 28 of August from 8am to 6:30pm
Sunday August 28 from 8am to 1:30pm
Running order of the Nations and Teams available from Friday August 19.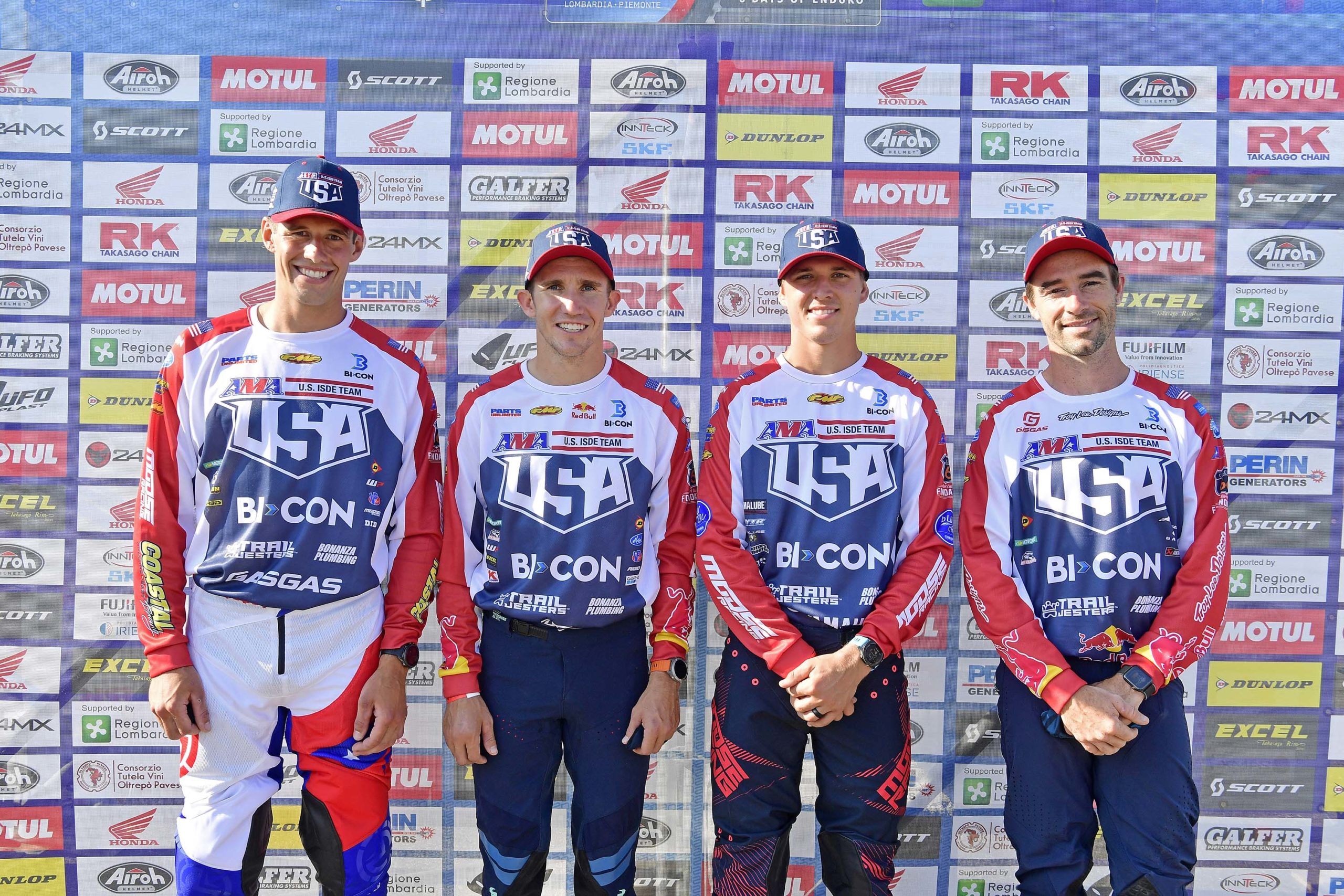 DAY 1 TO DAY 5
From Monday August 29 to Friday September 2, 2022.
SCHEDULE
Departure paddock : first rider 7 :30am, last rider around 11am
Last Le Puy en Velay Special Test 3 km from the paddock (Days 3, 4, 5) : passage of the first rider around 3pm.
Return of the first rider to the paddock : 3:30pm
Riders' mechanical sessions from 3:30pm to 7pm
Paddock animations/Fan zone : from 5pm
The timetable for the passage of the riders in the Special tests and at the time controls will be communicated mid-July.
FINAL CROSS TEST & 6 Days Party
Saturday September 3, 2022 in the Paddock
SCHEDULE
From 9am to 12:30am : Club Teams rounds
12:30 to 1pm : Club Teams podium
1pm to 2:30pm : break/animations
2:30pm to 4:30pm : rounds of the trophy's national teams riders Junior, Women, World.
4:30pm to 5pm : podium of the World Champion Nations by team
From 5pm to the end of the night: 6 Days Party, freestyle show, concert, fireworks, DJ
COMMERCIAL VILLAGE IN THE PADDOCK
Shop FIM ISDE 2022 – France – Le Puy en Velay official merchandising

Limited edition 6 Days France 2022 : SCOTT Prospect mask, AIROH Aviator 3 helmets and Wraap, KTM EXC, RIEJU… and much more
Take advantage of the "special 6 Days" deals offered by the exhibitors
Discover the local products offered by the local producer
AIROH helmet Aviator 3. SIXDAYS Italia 2021
SCOTT 6 DAYS Italy Prospect goggle
RK chain
EXCEL 6 DAYS Italia 2021 wheel
Official Environmental mat FIM ISDE Italia 2021 by HURLY
ANIMATIONS
The programme of events will be published by June
Special interview with celebrities from the off-road world